9:30 We run to the Cassina showroom to meet Ron Arad, who appears not to have changed out of last night's clothes. There we photograph his A Table That Eats Chairs, a prototype table designed with thin steel legs and a sandblasted glass top. Arad created four injection-molded fiberglass chairs to fold into thin slabs for storage under the top.
14:30 At B&B Italia's stand, we discover a number of lounge acts, from James Irvine's Radar relax chair, a rotating polyurethane lounger, to Jeffrey Bernett's Landscape, a slim, body-contoured orange felt chaise with a nickel-varnished metal base and a magnet in the leather or felt headrest for easy positioning. Upstairs at Maxalto, B&B's other line, we say hello to Antonio Citterio and admire his new upholstered functional Pouf/Chaise lounge from his Simplice collection.
15:30 Edra's op art-inspired display includes steam machines, acid colors, and trancelike music presenting a quasi-cocktail lounge for the 21st century. Elysee, a modular seating system upholstered in fluorescent pink polyurethane, by French designer Christophe Pillet, also turns up in florals and plaids. The Brazilian brothers Humberto and Fernando Campana join the carnival with multicolored plastic tubing interwoven on large round hoops to form screens or room dividers that remind us fondly of Silly String. The same plastic twirls and drapes in their Anemone armchairs. We catch up with the brothers on their Papel sofa, made of corrugated cardboard mounted on an iron frame.
16:30 Another Starck sighting, this time at the Driade booth, where the omnipresent one has introduced his Jelly Slice tables, a family of six with mirror-polished stainless-steel frames and glass tops layered with yellow gel cushions. (Simple glass tops are also available.)
19:00 Another bazillion parties to choose from. We head off for the "SMASH" exhibit, for which Covo, an Italian home accessories company, has commissioned nine designers–Richard Hutten, Marre Moerel, Stephen Burks, and James Irvine among them–to experiment with Murano glass, creating vases and bowls.
20:00 The Prada Foundation is packed, and with good reason. After months of gossip, the company has finally unveiled previews of the four stores and an office designed by Rem Koolhaas and Herzog & de Meuron, which are taking longer to open than the Panama Canal. We fondle a tableload of pink and scrunchy materials and peer into the windows of models, hoping to find tiny shoes.
21:00 Hidden is a Dutch design collaborative showing edgier work by several international designers on the circuit. We catch up with Christophe Pillet long enough to take his portrait with his House chair from 2000.
22:00 Fifteen minutes north of the city by car, we find American designers exhibiting their work at T.A.G. (ten avant-garde) team in a renovated parking garage. Karim Rashid is among them, showing Surface-Scape, a modular community of 12 lounge chairs, produced by edra, as well as Bi-Product's I-Beam folding screen, a see through gridded screen made of powder-coated aluminum in white and orange.
23:00 I'm late for the press dinner celebrating Target's million-dollar gift to the Design Institute at the University of Minnesota. I arrive at the trattoria in time for lobster and white wine, having missed the first 12 courses.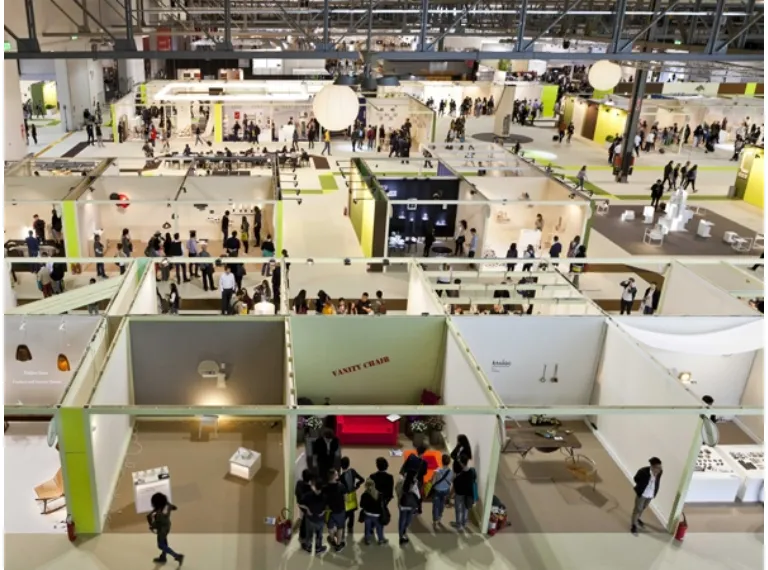 10:00 The fair's SaloneSatellite presents work by 400 young designers from 26 countries in 149 stands. Among the innovative products are white bar stools and tables by German designer Kay Thoss, made of a flexible laminate that exposes the individual layers, and Solo, hard-edged chairs carved out of multicolored foam, by the Belgian designers Quinze & Milan. Lightstories from Denmark created a chandelier from sanded wine bottles, hung in clusters, like grapes. Temporarily exhausted, we pause on one of Ron Arad's flamboyant Victoria and Albert sofas that the fair has kindly arranged in a circle.
12:30 At the Molteni & C booth, we find Hannes Wettstein's sleek Alfa chair made of two pieces of SCM, a polyester resin compound reinforced with glass fiber.
13:00 INSA shows off the IT collection, including a chair by Roberto Lazzeroni covered with a synthetic fiber mixed with cotton that looks like snakeskin-patterned cat fur. Further confusing species, the chair also features a pair of short arms that would be at home on a teddy bear.
13:30 Moroso's Springfield Collection by Patricia Urquiola features low-riding furniture that references the agricultural landscape of the designer's native Spain. The compact hot-pink square modular sofa has removable covers and is accompanied by chairs, tables, and carpets.
14:30 German designer Konstantin Grcic continues his work for Montina with Tabac, a slim-lined armless chair with a back angled subtly for comfort.
15:00 With 502 manufacturers and indoor temperatures in the high 90s, the Euroluce display is the hottest lighting show in Europe. The standouts include Ingo Maurer's Flora Dee, a limited-edition table lamp in metal and plastic with a floral pattern composed of white, red, and yellow LEDs. Flos introduces B.L.O. by Marcel Wanders, a light in the form of a traditional-looking candle and candleholder made of cast aluminum. An electronic switch controlled by audio waves allows the light to be activated via a simple blowing sound. In other words, puff, and it goes on. Puff, and it goes off. And what, is this Starck again? His SuperArchimoon is a gargantuan version of the designer's earlier table lamp, adjusting from 89″ to 129″ in height. At FontanaArte, Sag, designed by Carlo Tamborini, is a floor lamp made of painted chrome with a metacrylic shade that holds six balloon-shaped 60-watt bulbs.
17:00 I head back to the hotel for a costume change.
18:30 Can we possibly survive another night's events? Of course we can. We drop in on the Domus Design factory workshop at the S. Paolo Converso church, where Tom Dixon is one of many designers publicly experimenting with strands of acrylic extruded from a scary-looking machine. The four-day event, which Dixon organized, yielded a variety of curious objects (Karim Rashid, for instance, produced a loopy facsimile of his own sneaker). We end our trip (except for the shopping part) over dinner at Trattoria Madonnina with a collection of Italian and American designers, followed by sake mojitos (if you can believe it) and dancing until dawn. Milan will not soon forget us. We just hope they let us come back next year.